Well I'm currently in the market for new wheels for my JL Rubicon and really like the KMCs 229 Machete. I saw them last week and felt those are the ones!
I asked if I can get center cap trim painted red to match red acents on my white Rubi [emoji2] (Pictures attached)& the shop owner told me to come back in a couple of days.
So he called me up today to pass by to check the KMCs out, all i can say is i am sold on them, but just need some feedback before I finalise the deal.
I'm currently running on the stock wheels with 285/70/R17s BF A/Ts.
The KMCs specs are:
17x9 Beadlocks
Offset-38mm
Back spacing 3.5
Ill be lifting my JL 2.5" soon and will be later changing the tires to 35 or maybe 37s.
With the Rubi being white, my choices are black, red and polished. To be honest, polished on the white is [emoji1786] so decided polish is the colour.
So anyone used the 229s on the JL? Is the the offset too much as in stress on the axles?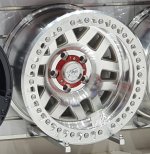 Only in a Jeep will your truly feel the freedom in any trail..