Good day!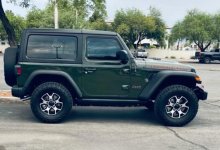 We bought "Tank" about a week ago. My first Jeep, but not my first 4X4. We traded-in a sports car, and I have to say, it's a drastic change, but we are loving it. We mainly bought it so we could enjoy the skiing and snowboarding in nearby UT without having to worry about chains, etc. We also figured this vehicle fits our "Western" lifestyle. We are looking forward to our first winter! We weren't sure about the Sarge Green color, but now we cannot imagine having any other color. We love it! Tank has been a very thirsty beast in the city, but we expected that.
We had an issue with our purchase, and I wanted to share my story so others may avoid a similar fate when buying a new Jeep.
The Las Vegas dealer (JEEP Only) pre-installed a non-OEM KARR brand alarm using a third party installer. I first noticed it immediately after the test drive (a flashing LED under the dash). I asked about it. The salesman advised that they install them "on all vehicles" as a part of their inventory control, that it was not optional, and that "some dealers charge $2000-$3000 for this alarm." The alarm was not listed on the sticker or the dealer's "sticker," so we learned of the price ($599) during the finance discussions. I told them we didn't want it as the vehicle already had factory alarm. The salesman said, "this one has motion sensor which the OEM doesn't have," and again he advised it was not optional (as it was already installed). We proceeded with the purchase.
After some investigating online, it turns out this is a cheap alarm with a cost of about $70 with maybe another $70 to install it. The accompanying instructions were nearly nonsensical. I might have gotten over all this, but some folks online have advised KARR is not a good alarm (faulty), is sensitive to false alarms, has even left some folks stranded (engine cut-off), and some say if you need to change the battery, you become unable to start the vehicle again without intervention from the dealer/a mechanic. All bad things to be sure. As for the motion sensor, we tested it out by pushing up and down on the bumper--nothing happened. The real issue for me: it is spliced into the wiring, and so removing it would likely do as much damage as was done splicing it into the system to begin with. I am also concerned about how this third party electrical work may possibly adversely effect my warranty, should I end up with electrical issues down the road. It rather ties me to the dealer who did the pre-sale-install IMO.
I spoke to the salesperson the day after the sale and expressed my concerns. In short, I stated that I was sold a damaged/altered vehicle IMO. He escalated this to the sales manager. The sales manager called me back within an hour and offered to put a chip in the vehicle to disable the alarm. He admitted the alarm could not be removed by the dealer. I told him I wanted compensation for the factory wiring being tampered with. I asked that the $599 be credited back into the loan. My view being if I had to live with this, I certainly didn't want to pay for it. The sales manager said he would look into it and get back to me. I had to chase him up, but a week later he finally got back to me. He said "...you bought it, you signed for it, and other than installing a chip to disable it, there's nothing we can do." What great customer service! I raised the potential impact to the warranty, which he did not address, he just repeated his position on the matter. I was a bit surprised as the dealer made money on the vehicle, the credit contract, and the trade-in. I asked if he was really willing to generate ill-will for the sake of $599. He said again that there was "nothing they could do." The reality, nothing they
would
do in this case. I said I was going to escalate the issue, and he said, "don't bother, the answer will be the same."
OK, obviously this is a great little side hustle for dealerships, much like paint protection, fabric protection, window tinting, extended warranty/service contracts, wheel protection, desert protection packs, etc.
My bad.
It's a shame because the Jeep ONLY dealership is very cool with a nice Jeep lifestyle shop, parts shop, customization shop, and a nice customer lounge area.
UPDATE:
I spoke with Jeep (corporate) today and explained the situation. They said the installation of a non-OEM alarm by a third party voids the warranty should electrical issues arise. They asked if we were experiencing any electrical issues (we are not). They said from their perspective, the dealer should not be installing, pre-sale, non-OEM alarms on all their vehicles. They said they will create an official complaint file and a Case Manager will contact us. I hope there will be some sort of remedy to this situation.
Last edited: