Finally got my Gladiator ordered last week. 8 to 10 weeks cant come soon enough!
Hydro blue is what I couldn't pass up and I can thank the wife for the name "Yondu" (from guardians of the galaxy) I though that was a clever one so its sticking lol.
So far the parts list will include a Mopar lift, 17" Black Rhino Kelso wheels, 37" Coopers, Evo 1/4 pounder, Warn Zeon 10s, Baja Designs LP6s, and Rugged Ridge Soft Folding tonneau cover. Will post photos when it arrives.
I cant wait!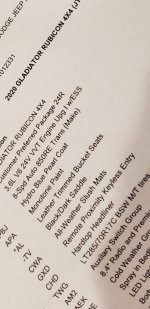 Sent from my SM-N960U using
JL Wrangler Jeep Forum mobile app