Administrator
Staff member
So, for those of you who are interested in the upcoming 2018 Jeep JL Wrangler and have been wanting it in a diesel, all indications are pointing to it actually happening this time around. The question is, what diesel engine will it be? Well, according to AllPar's sources, there's a very good chance that it will be the VM Motori V6 Diesel Engine that Chrysler has been using since about 2011. You can read all about it here:
http://www.allpar.com/mopar/V6/VM-RA-diesel.html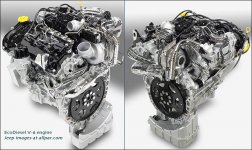 I've never been a big fan of diesel engines in a Jeep but, I have to say that I am intrigued. With that said, I'd like to hear from some of the diesel fans out there and know what you all think of this engine?