Administrator
Staff member
Before I get this started, it needs to be made clear that when it comes to things like lift kits and tires you can run with them, EVERY manufacturer, shop and person in the industry will always refer to what is written on the sidewall and NOT the true height of the tire. In other words, if a 2.5" lift kit states it'll clear 35x12.50R17 tires, they are referring to what is written on the sidewall and NOT a tire that has an actual measurement of 35". In order to get a tire that tall, you would need to be running a 37x12.50R17. Why is that you might as? Because ALL tires have a true measurement that is SMALLER than what is advertised. The ONLY time true tire height matters is when you're recalibrating your speedometer as that's what your speed sensors will be reading.
With all that said, I am asking all of you to help me create a database that can help everyone better understand the difference between advertised tire size and true tire size. To do this, I would be grateful if you could please make a post and based on the following guidelines:
TRUE Tire Size Database Guidelines
---
1. State the brand of your tire.
2. State the size of your tire as written on the sidewall.
3. With your tire installed, aired up to 30 PSI and with the full weight of your Jeep on it, use a tape measure to measure to the edge of the tire's shoulder (
NOT
the highest point on the tread) and photograph it as shown in the sample below: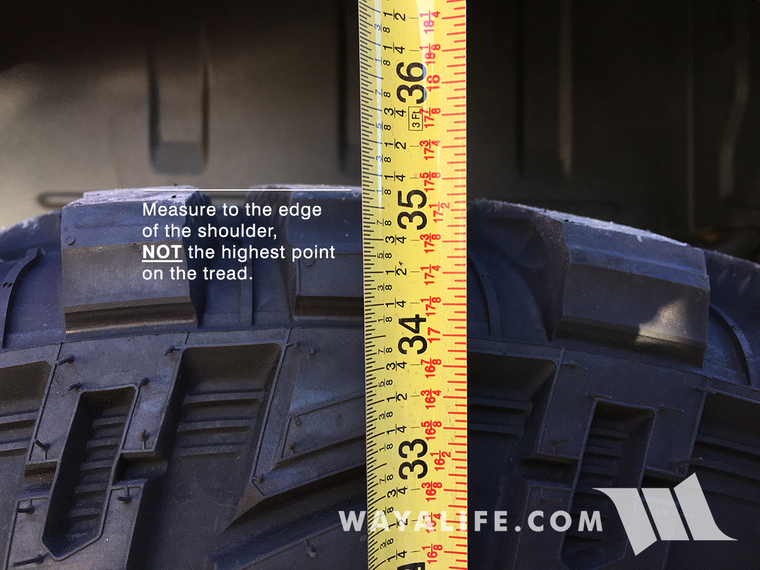 4. State the TRUE measurement you are seeing as well as how many miles you have on the tires.
It is important that everyone follow the exact same metric in order for us to obtain an accurate database. Please let me know if you have any questions and thank you for your help