Well I'm really torn over this one but I've decided to sell my 19' Rubicon and get a JT. This point in our lives it just makes more since.
I have a loaded 19 JLUR
Leather, 8.4" premium alpine, hardtop, soft top trektop, tow package, aux switch package, proximity entry, Mopar steel front bumper, cold weather package, heated seats remote start, 3.6 auto, led package both carpet and rubber jeep mats, Mopar trail table, non smoker, no pets inside
3.5" RK X factor lift , 2.5 King shocks remote reservoirs, RK front and rear trackbars, synergy tierod and relocation bracket for stabilizer, evo tire carrier, evo protek skids, factory and mbpr exhaust, warn Zeon 10s, A pillar leds, rear dust/ spot leds, Mopar third brakelight relocation, JL Tazer full one, custom DOM sliders, 38x13.50x17 Pats on 17x9 KMC machetes, jeep is in Beautiful shape 12k miles all recalls and flashes are up to date, replaced steering box to AE version last week, have all factory parts I took off and all stock tires with 300 miles on them. Could switch tires out to 37 Nitto trail grapplers if buyer wants them. Have both fobs, all manuals, window sticker ( I ordered the jeep) jeep offroad kit.
$52,500
Will post better pictures tomorrow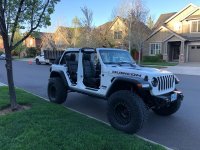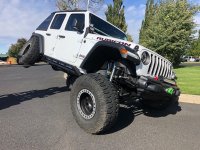 Sent from my iPhone using
JL Wrangler Jeep Forum mobile app
Last edited: