Finally got around to putting on the Rancho 2" lift I bought back on Black Friday....yeah I know. It came with the front and rear sway bar links...not the extension brackets...and I got the Rs 9000s..funny thing about the RS9000 it took a few minutes to figure out how to extend them. Anyway thanks to Eddie's video it was pretty simple. I actually didn't have to disconnect the track bar front or rear. The tricky part for me was getting those nubs in the rear upper spring perches to line up...What retard designed those...next time I'm in there those are getting RTV'd in place...
Quick question for anyone running the RS9000s what setting is best overall? I'm at 5 to start.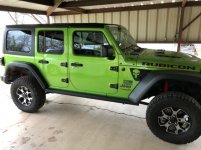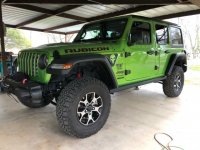 Now I need tires but unfortunately it will be after EJS...also the sliders unless I can get some there.
Sent from my iPhone using
JL Wrangler Jeep Forum mobile app
Last edited: