Administrator
Staff member
Just read an article on AllPar where they discuss a patent application that Chrysler submitted regarding a hard top rear glass window design that can fully fold back up on top of the roof. There are a lot of speculations as to IF this is really going to be something the new Jeep JL Wrangler will have or for what purpose but, the illustrations clearly point to it being a Wrangler and with all the talk about a fixed hard top, I could totally see this being something they would do to help create an open air feel. Anyway, check it out and let us know what you think.
New Wrangler rear window?
by Patrick Rall
A new Chrysler patent application shows a unique full folding back glass design, and while this patent isn't officially related to the Jeep Wrangler, it is used for the illustrations, and there is no vehicle in the current lineup that would accept a design like this as well as the Wrangler.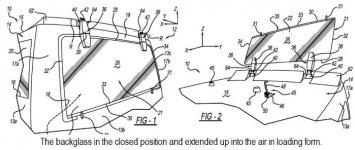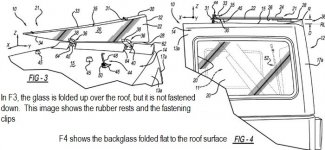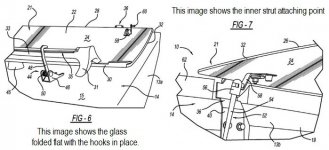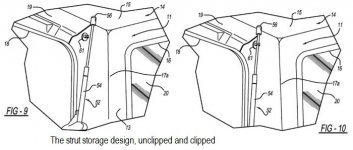 The lengthy patent application shows a new backglass design for a vehicle that has a very flat rear face, a flat roof, an angle of roughly 90 degrees where the body lines meet, and backglass that opens independently of the surrounding body work – all of which suggests that this Is the next generation Jeep Wrangler.
The current generation of the Wrangler has backglass that opens away from the bodywork with struts that hold it up high enough to access the entire opening for easier loading and unloading. On the 2014 Jeep shown here, the spare tire swings out of the way and the backglass opens upwards.
This new patent application shows a similar design, with backglass that is hinged the same way, with similar struts and a similar shape. However, this backglass folds all of the way up to the roof, with clips built into the roof that allow the driver to open the backglass of the vehicle, pin it down, and drive away with a great deal more airflow (or just have it further out of the way for cargo loading). This design also has clips inside of the vehicle where the driver may clip up the struts after disconnecting them to swivel the glass up onto the roof.
The patent application states that the reason for including this system is to allow Jeep Wrangler owners to enjoy the open air feeling while the roof is attached, while allowing owners to be able to haul large cargo, such as lumber. Imagine pulling off the front roof portion of the current Wrangler, cranking down the windows, and folding the backglass up onto the roof – you would have almost as much of the open air feel as you would with the entire roof removed.
You can read all about it on AllPar here:
http://www.allpar.com/news/index.php/2015/01/new-wrangler-back-glass-patent
​