This is my first write up, please excuse me for the lack of detailed pictures as I did not mean on post this until after I completed it. One of my buddies said that I should share this to other Jeep people as he would wanted a similar set up.
The story was that I was looking around and was unable to find a location under the hood of the JL to mount a compressor. I wanted something that I don't have to drill or cut into at the same time slim and sturdy.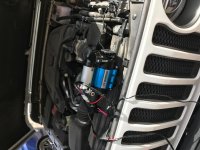 This was what I did.
Parts & Tools:
Teflon tape, electrical tape, drill bit, zip tie, 3M double sided tape, wire crimper tool
Installation:
View attachment 1704
I wanted the compressor to be bolted to the case so that the bolts will not stick out and scratch any other flat surfaces regardless of which side it sits on.
Using the base plate came with the ARB compressor and I made 4 holes into the opposite side of the carry handle of the case as there are protruding "legs" to cover up the bolts. Using the supplied 4 carriage bolts from the compressor and secure the compressor to the case.

Using 3M double sided tape, I taped both the toggle switch and the cooling fan (intake side facing out) to the case. I should have double sided tape the relay too but I bolted it on before figuring a better solution without putting more bolts to the case. Ziptied the wiring harness to the frame of the compressor just in case I accidentally yank on the harness and rip the pressure switch from their terminals.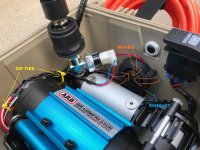 *I angled the exhaust side of the cooling fan a little bit down ward to move trapped hot air on the bottom of the case.*
Tapped the negative wire of the fan to the ground wire on the toggle switch and positive wire of the fan to the positive side of the toggle. So when the toggle is turn on, both compressor and fan will be on.
Sorry if the pictures were rotated correctly. I don't know how to rotate them on here.