I posted this on
www.JT-Gladiator.com
the other day, but meant to post it here as well.
How to remove Jeep Gladiator soft top.
Jeep finally released a video showing how to completely remove the soft top from the Gladiator. I've been looking for something like this for weeks. It's only 4 bolts! I hate the way the soft top looks while open. Looks like removing it is simple!
First half is hard top. Soft top starts at 2:11.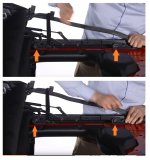 Last edited: